Freedom at Depth Canada is the only organization in Canada solely dedicated to offering an internationally recognized SCUBA diving certification program for people with disabilities. FADC is directed by Hubert Chrétien; one of only two HSA course Director Trainers in the world. Freedom at Depth has conducted over 800 introductory courses for people with disabilities.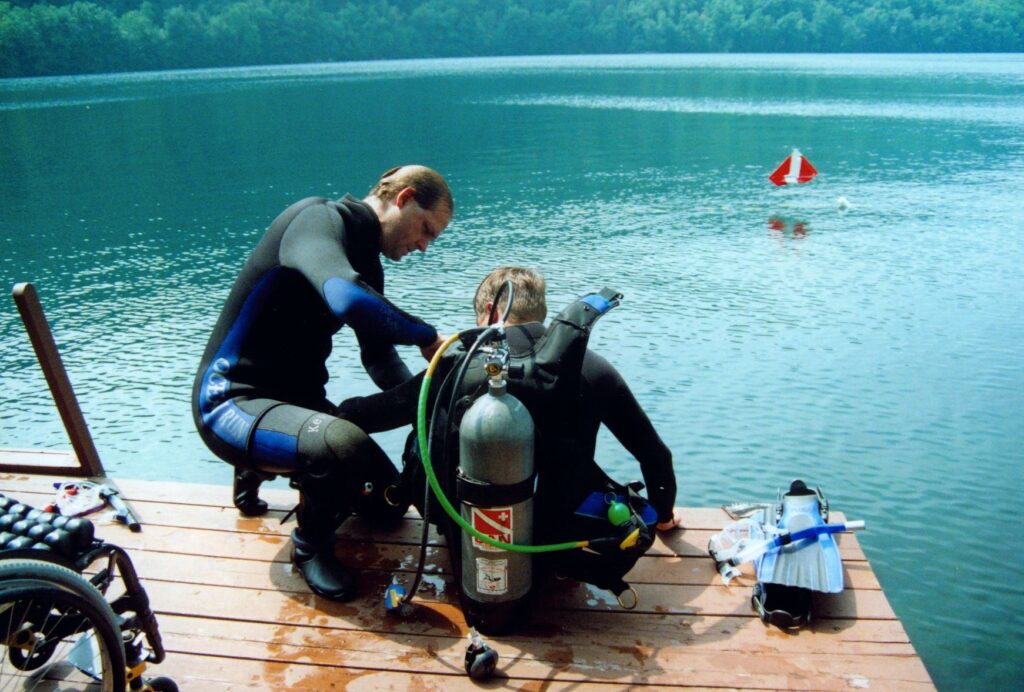 SCUBA diving is safe and easy when divers are properly educated. HSA has more than thirty years of experience in training safe and competent SCUBA divers with disabilities; this has been achieved by adapting the buddy system to the individual diver's abilities to ensure the safety of both the diver and their buddy (buddies). The HSA Open Water SCUBA course is a full certification course. It is recognized worldwide and will allow a diver with a disability to participate in recreational SCUBA diving activities.
A valid medical dive statement must be provided prior to acceptance into the HSA program including the introduction. Please print the appropriate medical form from the FADC website and have it completed by your physician. If your physician has any questions on the special medical considerations for people with disabilities and SCUBA diving, we can arrange a private interview for him/her with a physician trained in assessing SCUBA for people with disabilities.
Introduction to Scuba Diving
An "Introduction to SCUBA Diving" can be done prior to a potential student deciding to take a full SCUBA diving certification course. Participation in this activity does not put any obligation on the potential student and is a very good way to determine if this sport is for them. This is done free of charge.
Open Water Scuba Course
The HSA Open Water SCUBA Course, offered by Freedom at Depth Canada, has three components: academics, confined water (pool) and open water. The academics and confined water components are taught together, while the open water is taught separately. The academics and confined water require a minimum four days of training. The open water is done in two days. The entire course can be done either all at once or over a period of several months. FADC will work individually with each student to set a suitable schedule. If a student requires additional training time, it will be provided at no additional charge.
A fee of $300.00 will be charged for the SCUBA course. The online E-learning and HSA certification fee are included in the course fee. The course fee may be waived if a potential student can demonstrate that this fee would be an unreasonable burden.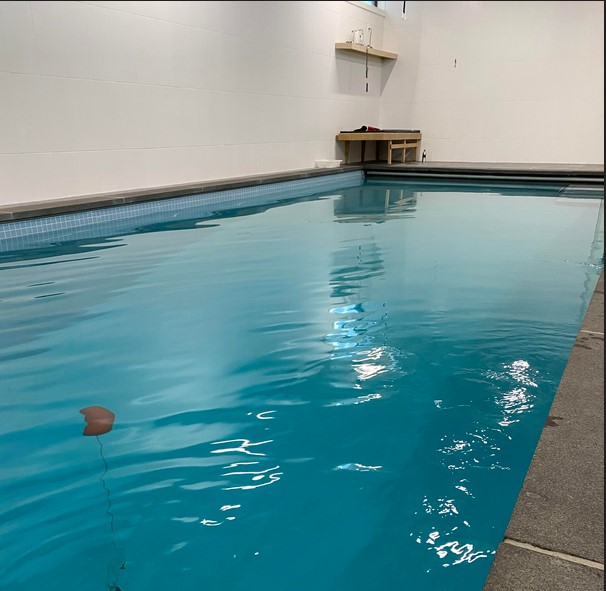 The academic component will be conducted in the Freedom at Depth building adjacent to Hubert Chrétien's house in Ottawa, Ontario. The confined water portion will take place at the wheelchair accessible pool in the Freedom at Depth building. For out of town students, accommodation will be arranged in the Freedom at Depth building free of charge. The open water component will take place at suitably acceptable, local open water sites for summer courses, and in appropriate warm water locations for winter certifications. If students choose to complete their course in a warm water location, and a FADC staff member is available, there will be no additional charge but the student will be responsible for all travel and accommodation expenses.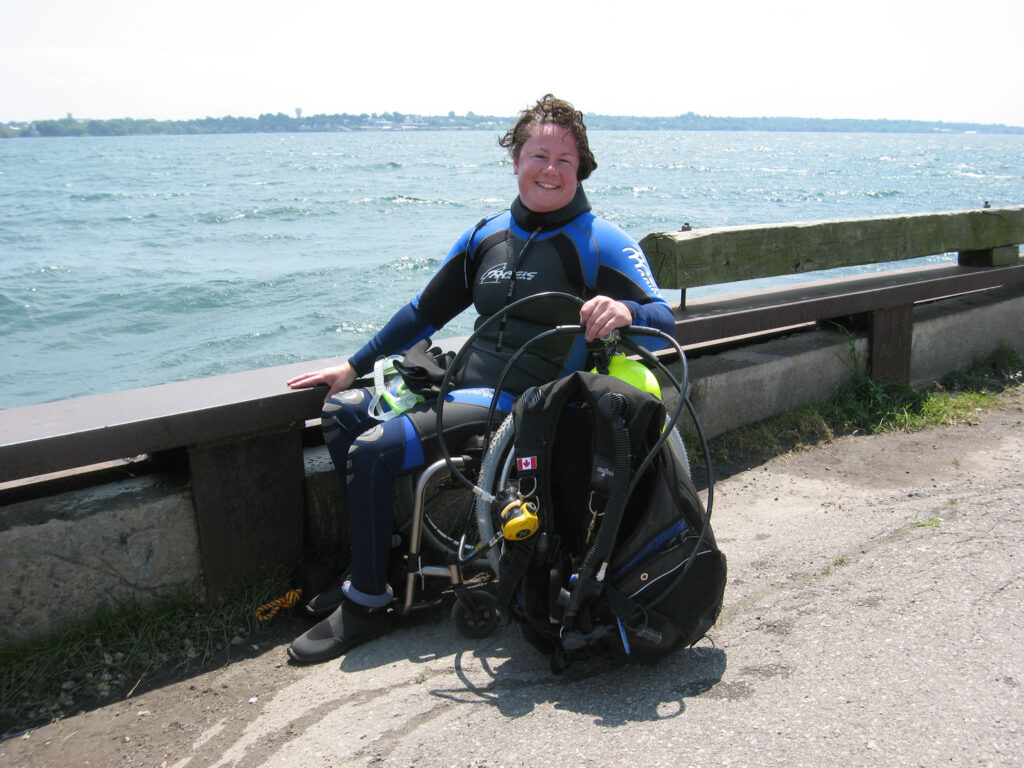 Most of the equipment for the course will be provided by FADC. However, students are required to purchase basic personal SCUBA equipment. Note that it is important that the student not purchase any equipment before the beginning of the course. FADC will provide detailed information on what is required. Basic equipment will include mask and protective boots; for some students, a snorkel and/or fins may also be required. For the Open Water portion of the course, a wet suit will be required. Freedom at Depth can help students find adequate wet suits for diving with a disability at a low price.
After certification some divers with disabilities will have to dive with two dive buddies; one of whom may have to be a specially qualified diver, such as a rescue diver or an HSA trained dive buddy or higher. Freedom at Depth organizes many accompanied dives in Canada and abroad. An employee of Freedom at Depth will never charge for such dives or for his expenses related to such dives, However if volunteers have to be enlisted to assist, some of their expenses may have to be covered by the diver. If no Freedom at Depth staff is available to assist a diver with a disability, the diver might have to pay to get assistance, however this is rare, most people are happy to help.
Advanced Open Water Course
Freedom at Depth offers the HSA Advanced Open Water Course to all students after completion of the HSA Open Water course. This is a great opportunity for divers who need assistance to meet many new qualified divers. It is an opportunity to do your first post certification dives in a supervised environment and contributes greatly to helping people with disabilities stay in diving. Freedom at Depth has many students with severe mobility disabilities who have done more than one hundred dives, they have all taken the Advanced course. The Advanced course is an introduction to dive planning, specialty diving, marine life identification and awareness. There is a little bit of classroom work but most of it is self study and diving. It requires five dives – navigation, night, deep, mid-water or drift and a marine life identification dive, these dives can be done back to back or over several months with non-related dives in between.
Snorkeling and Skin Diving
Freedom at Depth has worked with the Handicapped Scuba Association (HSA) to develop a snorkeling and skin diving program for people with disabilities. This program accommodates people with a much greater range of disability than the SCUBA diving program and was created for people with disabilities interested in exploring the underwater world but medically contraindicated to SCUBA diving. Freedom at Depth does exciting snorkeling activities in Canada as well as in tropical locations. It is not uncommon on the night snorkeling activity in the Caribbean to see multiple octopus, squid and spiny lobsters. In the daytime we see turtles and countless other marine life.